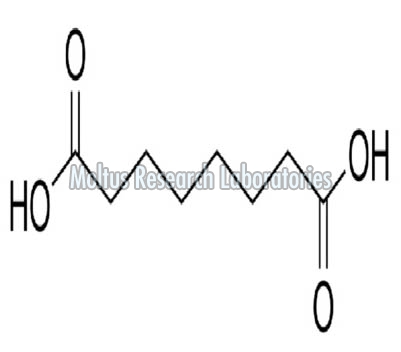 Suberic acid is also known as the octanedioic acid with chemical formula C8H14O4. This dicarboxylic acid is a colorless crystalline solid, brought in use for plastic manufacturing as well as drug synthesis. The word has been derived from Latin word 'suber' which means cork; hence, named cork acid. Owing to its exceptional chemical properties, this chemical is highly sought-after by a number of industries. Its extensive use lies in several organic synthesis as well as the pharmaceutical intermediary.
The density of suberic acid is 1.272g/cm3 and its molar mass is 174.20 gms. It 143s melting point is 143°C and boiling point is 230°C. It is sparingly soluble in water, near about 2.46 g/L and stable under normal conditions.
This acid is generally used in the preparation of reduction-sensitive micelles that can affect the cellular uptake. Apart from that, it has the potential application in the synthesis of drugs. Its usage also lies in the fluorescent detection of amidinium-carboxylate and formation of amidinium. Some of its other applications are listed below:
• Lubricants and biodegradable solvents
• Plasticizers for polymers
• Candles
• Cosmetics
• Hydraulic fluids
• Painting material
• Engineering plastics
• Perfumery and pharmaceutical
• Epoxy curing agent
• Electrolyte
Carboxylic and dicarboxylic acid are the two carboxylic acids present in it. Owing to its properties, it has several industrial usages. The way of storing this acid is in cool, dry and completely away from sunlight. But, with several benefits, this acid is detrimental for the skin, as it has caused several eye and skin irritation. As it can cause severe respiratory problems, hence, it is advisable to stay away with its dust, vapor, fumes or gas.
However, in order to maintain the competitive edge in the market, it is essential that the suberic acid suppliers must follow following practices:
• They must obtain the acid from the reputed vendors who are well known for utilizing the top grade raw materials with advanced technology.
• The entire process must be handled with well-equipped professionals who have adequate knowledge in handling and processing the order in the most efficient way.
• They must adhere the industry standards.
• They must ensure that all the urgent orders need to get delivered on time.
• They should easily meet the requirement of the ever demanding clients.
The products need to be offered at many competitive rates
Thus, to conclude, suberic acid has tremendous application in industries but it is essential to handle the acid with extra care.