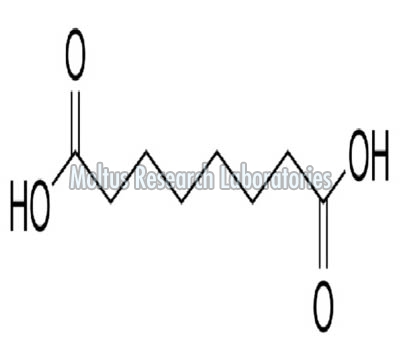 The suberic acid is also known as octanedioicacid. Its chemical formula is c6h12 (cooh)2. The chemical is known for its exceptional chemical properties. This chemical is widely used in the organic synthesis and pharmaceutical intermediate.
The molar mass of the acid is 174.20 gms and its density is 1.272 g/cm3. This colorless crystalline solid got its name from the Latin word suber, which means cork. The acid is particularly used in drug syntheses and manufacture of plastics. The other names of the suberic acid are cork acid and 1.8 dioic acid. The melting point of acid is 143°C and boiling point is 230°C. It is slightly soluble in water and is completely stable under ordinary conditions.
APPLICATIONS
The acid has applications in the following fields:
• Plasticizers for polymers
• Lubricants and biodegradable solvents
• Hydraulic fluids
• Cosmetics
• Candles
• Polyamide and aloud resins
• Painting materials
• Engineering plastics
• Epoxy curing agent
• Perfumery and pharmaceutical
• Electrolyte
The acid comprises two carboxylic acids, i.e. carboxylic acid and the dicarboxylic acid. It is mainly used in industrial applications. It is recommended to store the acid in cool, dry and away from sunlight. The acid is hazardous for the skin as it may cause skin irritation and eye irritation, if not used properly. It may cause respiratory irritation, so it is advised to avoid dust, fume, gas or vapor.
The suppliers of suberic acid should adopt the following business practices in order to gain a competitive edge in the market-
• They should procure the acid from the reputed vendors in the market, who make use of the top-notch grade components and technologically advanced machines for the production.
• They should be backed by a team of dexterous professionals, which is highly proficient in handling and processing the orders in a prompt manner
• These suppliers should thoroughly adhere to the standards and norms laid down by the industry.
• They should have enough capacity to suffice the bulk and urgent requirements of their clients on a timely basis.
• The suppliers of suberic acid should be well-equipped with a widespread marketing and distribution network. This enables them to meet the requirements of geographically distributed clients.
• They should offer this chemical at a cost-effective rate, to penetrate a large client base.
Thus, we can conclude that the wide applicability of suberic acid has led to an ever-increasing demand for it in various parts of the world.