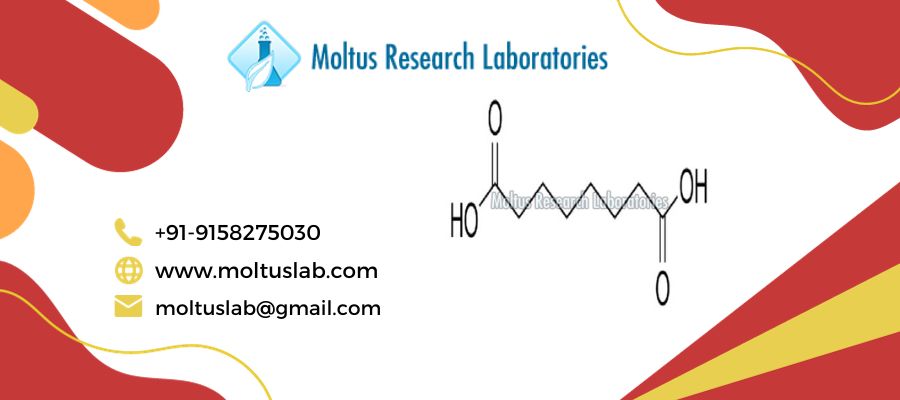 Octanedioic acid, or suberic acid, is a key player in the complex field of chemistry. This well-formulated dicarboxylic acid is well-known for its pivotal role in several applications. By looking at its molecular makeup, we can unlock the mechanisms behind its adaptability and function.
Molecular Marvel
The molecular structure of suberic acid is C8H14O4. Its unique structural makeup becomes the focus, with a molecular weight of 174.19 and a CAS number of 505-48-6.
Its solid, colourless, crystalline appearance gives its chemical profile a refined measurement. In the realm of compounds, this sets it apart.
Its name, cork acid, is derived from the Latin word Suber, which means cork.
The melting point of this acid is 143 °C. This acid has a boiling point of 230°C. The acid is stable in normal circumstances and just slightly soluble in water at a concentration of 2.46 g/L.
Alchemy of Organic Synthesis
Suberic acid's strength is shown in natural synthesis. Being a dicarboxylic acid with two functional carboxyl groups, it is used to create intricate molecular structures. Expert chemists use its reactivity to help with a variety of chemical processes. Making it an invaluable component in the creation of polymers, medicines, and other essential chemical molecules.
Pharmaceutical Pathways
Suberic acid serves as a crucial intermediary in the field of pharmaceuticals. Its deliberate modification will play a key role in giving drug molecules special functions that affect their pharmacological properties. The substance is important in the production of pharmaceuticals and medicinal compounds where accuracy is crucial.
Industrial Design
Suberic acid finds use in a variety of industrial techniques, extending beyond its use in prescription medications and synthesis. The strong, colourless crystalline kingdom of suberic acid increases its usefulness and facilitates handling and transportation. Because of its consistency and dependability in chemical operations, it's a great fit for businesses where accuracy is crucial to success.
Dependable Purity
It has a purity level of NLT98%. Suberic acid's consistency and purity both significantly add to its dependability in chemical processes. Chemists and manufacturers may both rely on its standardised residences. It permits a high degree of precision in the prediction and management of responses. This dependability becomes crucial, particularly in sectors where even the smallest change can have far-reaching consequences.
Considerations To Keep
There are a few key considerations that must be made to sustain the market's demand for this acid.
• Only premium raw materials should be used for manufacturing, and one should be knowledgeable about how to apply cutting-edge technology.
• Professionals with extensive experience in processing orders and with the right equipment should oversee the production process.
It is always appropriate to use the industry norms.
Conclusion
Suberic acid shows itself as a versatile and trustworthy substance in the vast fabric of chemistry and industry. Its molecular marvels play an essential role in organic synthesis, medicines, and commercial applications, and are reshaping the field of chemistry. Suberic acid is poised to play a persistent and crucial role in the introduction of essential chemicals.