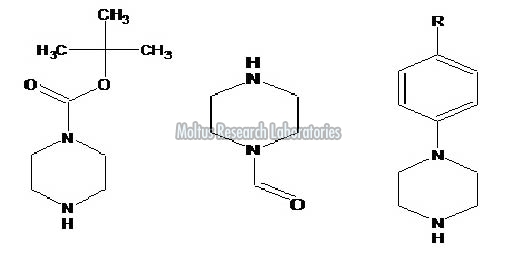 Piperazine Derivative is the simplest cyclic member of the ethyleneamines family. It normally sold as a water white solution in water to facilitate storage and handling, but can also be found in the form of a white crystalline flake material at room temperature. It is used in anthelmintics for treating intestinal worms and also in pharmaceuticals, epoxy curing agents, polyamides. It can also be utilized for producing certain polyurethane catalysts. Let's learn some more about Piperazine Derivatives :
How Are Piperazine Derivatives Produced?
Piperazine Derivatives are produced as a result of the reaction between ethylene dichloride and ammonia under high pressure and moderate temperature. The result obtained is an ethyleneamine
hydrochloride solution, which is neutralized with caustic soda to form various ethyleneamine along with Piperazine. Further, they are separated and purified by distillation and the by-product formed is sodium chloride or salt. In an alternative process, monoethanolamine is reacted with ammonia over a catalyst to produce various ethyleneamine products, including Piperazine.
Uses of Piperazine Derivatives:
Piperazine Derivatives are used in a myriad of field and are generally used in combination with one material or the other. Some of the areas of utility are:
· Pharmaceuticals – The pharmaceuticals industry uses Piperazine extensively. It is utilized for analgesics, antidepressants, and drugs to treat impotence, angina, intestinal parasites, and motion sickness.
· Agricultural And Veterinary Treatments: Piperazine is widely used in various commercial anthelmintic products to act on the intestinal worms in livestock as well as pets.
· Epoxy Curing Agents – Piperazine Derivatives used to enhance the performance and application of coatings, adhesives, laminates, castings, and grouts.
· Chelating Agents – Piperazine Derivatives Manufacturers utilize Piperazine Derivatives to form certain complexes with metal ions to prevent them from hindering the processing and also to promote buffering, concentration, separation or transport.
· Marine coating agents: Piperazine is used in the formulation of marine coatings that have strong adhesion to metal substrates and have good anti-corrosive properties as well as resistance to certain chemicals.
· Polyamide Resins – Piperazine is used in polyamide resins that are used as varnishes, coatings and adhesives and binders for printing inks.
· Other uses: Other utilities of Piperazine are its use in cement grinders, corrosion inhibitors etc.
Piperazine Derivatives Exporters generally do not provide Piperazine to be used for direct use by consumers, but as a component of materials to be used by them. It is best suited to read the product description for best possible utility. Piperazine Derivatives Exporters adhere to the set regulations that govern the sale and transportation of Piperazine.