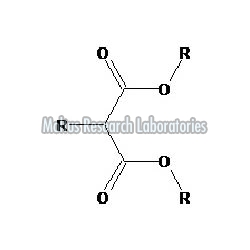 Malonate is an inhibitor of the enzyme succuinate dehydrogenase. This compound binds to the active site of the enzyme without reacting, and thus competes with the usual substrate of the enzyme. Malonate includes salts and esters of malonic acid such as diethyl malonate, dimethyl malonate and disodium malonate. Malonate is a compound commonly used in Malonate Derivatives, which Malnoate Derivatives Manufacturers and Suppliers in India deal in.
Properties of Malonate
The Malonate compound can be easily absorbed through mucous membrances and distributed into water compartments. However, this element is not easily absorbed by the skin cells. The absorption of such compound is lowest in human and pig skin. However, its absorption is highest in nude mices.
Production and Sampling
The production process of Malonates is either done by either mixture of cobalt-catalyzed alkoxycarbonylation of chloroacetates with carbon monoxide in the presence of alcohol called Carbon monoxide process or by hydrolysis of cyanoacetic acid followed by esterification with the respective alcohol known as hydrogen cyanide process. After the completion of reaction, sodium chloride and catalyst are separated, and the ester is purified following certain distillation steps. Sampling of this compound is extremely important to ascertain whether it is in a stable form, thus Sampling is done in a closed system through a sampling valve containing a special syringe.
Processing and Use
This compound is mainly used in the chemical industry as intermediates for the synthesis of various organic chemicals such as acetic moiety or hydroxyester group. The end product of Malonates are commonly used in many intermediate such as pharmaceuticals, agrochemicals, vitamins, fragrances and dyes. The breakdown of this chemical usage by many industries for the past few years states that it is largely used in adhesive hardeners and industrial use. It is also used in sales and repair establishments for motor and other vehicles.
Natural Occurrence
The presence of this compound has been found in a number of fruits as a volatile aroma compound for example in pineapple in the form of gas chromatography and and infrared spectroscopy. The percentage of Malonate is said to be higher in green pineapple than in ripe pineapple. Malonate is also found in the liquied-liquid extracts of fresh blackberries and bananas.
Malonic acid is a simple acid that includes carboxyl groups close together. The salt of Malonate which is Diethyl malonate also called as DEM. It is commonly found in grapes and strawberries in the form an apple like fragrant colorless liquid, which is used in many perfumes, artificial flavouring and vitamins.