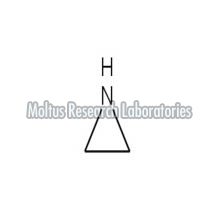 The chemistry of epoxides and Aziridines or any other three-membered ring heterocycles, has caught the attention of synthetic chemists for more than a century, owing to the essentially high reactivity of these small-ring heterocycles. This reactivity of the small-ring heterocycles makes them versatile species in organic synthesis. Aziridines are saturated three-membered ring compounds, that contain two carbons and one nitrogen atom. Aziridine are synonymous to azacyclopropane and ethylenimine. Let's know more about Aziridines:

Synthesis or formulation of Aziridines:
Aziridine Manufacturers in India use a number of methods to prepare Aziridine derivatives like:
Addition to Alkenes:


Addition of Nitrenes and Nitrenoids to Alkenes
Aziridines by Addition-Elimination Processes
Addition to Imines


Carbene Methodology
Aza-Darzens and Analogous Reactions
Ylide-mediated aziridination
Aziridines through Cyclization


From Epoxides
From 1,2-Aminoalcohols and 1,2-Aminohalides
From 1,2-Azidoalcohols
Uses of Aziridine:
Aziridines are commonly used in synthesis for chemical bond expansions and functional group transformations. Aziridine is a monomer that finds use in the preparation of cationic polymers. Polyaziridine (polyethyleneimine) is an example of such polymers that are widely used in various processes:
During its use as an intermediate and monomer in the production of cationic polymers, exposure to the compound may occur. This is used for improving the wet-strength of paper.
in fuel-oil and lubricant refining
as flocculating agents and in protective coatings
in textile finishing
for adhesives
polymer stabilizers as well as in surfactants.
Chemical And Physical Properties Of Aziridine:
Aziridine is a clear and colorless oily liquid substance that has a strong odor of ammonia.
Its boiling point is expected to be 56°C, whereas, its melting point is approximately
77.9°C.
This substance is miscible in water and is very soluble in diethyl ether, slightly less soluble in ethanol and is also slightly soluble in chloroform.
The vapor pressure of aziridine is expected to be about 1 kPa at 20°C.
Aziridine may polymerize explosively when in contact with silver, aluminum or acid.
Aziridine is a highly reactive and volatile chemical.
Use Of Aziridine In The Cosmetic Industry:
As compared to other fields of utility for a multitude of properties, Aziridines are relatively new in the cosmetic industry. Substantivity is a major concern for skin and hair product manufacturers. The use of Radioactive Tracer technique, along with Polyethylenimine brings about substantivity to the hair.

The recent research and development of Aziridine chemistry has followed two main paths. First, focus on the development of reliable preparations. Second, appropriate control over the subsequent ring-opening transformations of aziridines. The existing and state-of–the-art features catalytic, highly enantioselective aziridinations, reliable ring-opening transformations, and stereoselective cycloadditions, all of which illustrate the unique reactivity of Aziridines.
This entry was posted on March, 06, 2020 at 10 : 19 am and is filed under Aziridine. You can follow any responses to this entry through the RSS 2.0 feed. You can leave a response from your own site.