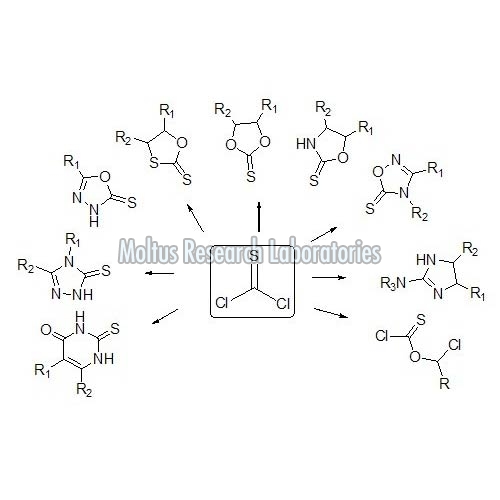 Thiophosgene is a chemical used in the diverse organic syntheses due to its two reactive bonds C-CI. It is known by other names also such as carbon chlorosulfite, Thiocarbonyl chloride, and carbonatitic dichloride. Its molar mass is 114.98 g/mol and its density is measured at 1.50 g/cm3. In physical appearance, the chemical is red in color.
The chemical is prepared from carbon disulfide. It is a two-step process in which carbon disulfide is chlorinated to form trichloromethane sulfenyl. The chemical reacts with air and water to form hydrogen chloride but it reacts very slowly unless the water is hot.
The chemical is appreciated by customers for its long shelf life, balanced pH value, 100% purity and high efficiency. The reduction of trichloromethane sulfenyl produces thiophosgene. It is available in various laboratories and through various online portals at a market leading price, with the added facility of delivery at the doorsteps. The suppliers who deal with Thiophosgene also deals with 4-Isothiocyanato-2-(Trifluoromethyl) Benzonitrile, CyclopropylIsothiocyanate, Benzyl Isothiocyanate, Pentafluorophenyl Chlorothionoforomate, 4-Chlorophenyl Chlorothionoformate, Phenyl Isothiocyanate, Beta Naphthol Thio Chloroformate, and so on.

APPLICATIONS
• The chemical is used to convert primary amines into isothiocyanates.
• It acts as a dienophile to produce thiacyclohexene derivatives.
• It is the apt reagent in Corey-Winter synthesis to convert 1,2-diols into olefins.
The chemical is highly toxic and needs to be handled and stored carefully to avoid any kind of accidents. It may cause severe eye irritant and may burn the skin if it comes in contact with it. It is very toxic to inhale as it may lead to severe respiratory problems. It gets absorbed into the skin as quickly as it is boiling point 73.5°C. It decomposes above 200°C and is very flammable in nature.
There are many manufacturers who deal with Thiophosgene and provide it at unbeatable market prices. There is a huge demand for such chemicals owing to its uses and benefits. The chemical is manufactured using high-quality raw material sourced from authorized vendors. All the chemicals are manufactured in accordance with the prescribed quality standards and the guidelines. The manufacturers of thiophosgene in India should make use of the utmost authentic grade chemicals and modern techniques for the production. Moreover, they should adopt the competitive pricing policies in order to stand tall in the market.
This entry was posted on October, 05, 2020 at 18 : 53 pm and is filed under Chemical. You can follow any responses to this entry through the RSS 2.0 feed. You can leave a response from your own site.