Safety Measure To Follow When Working With Thiophosgene
Posted by Admin on November, 07, 2020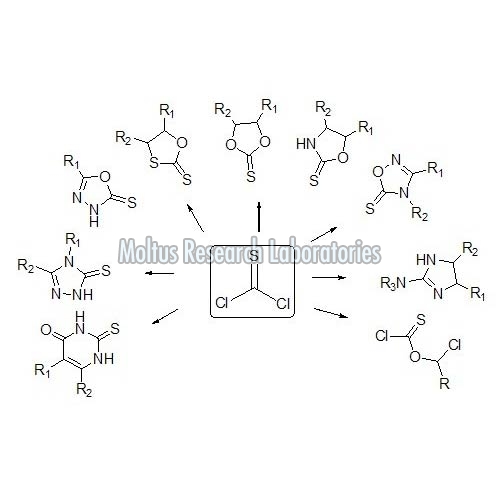 Thiophosgene is a molecule with trigonal planar geometry and has two reactive C-CI bonds that allow it to be used in diverse organic syntheses. It is a red liquid with the formula CSCI2. Various thiophosgene manufacturers supply quality products right at their customer's doorstep at affordable prices. But one must be careful when dealing with such chemicals at the workplace. Here listed below are safety equipment or measures and first aid measures to follow when working with Thiophosgene to ensure personal safety.

Personal Protection Equipment to have when working with Thiophosgene

• Eye and Face Protection Gear
One must have appropriate protective eyeglasses or chemical safety goggles to safeguard their eyes from getting exposed to thiophosgene. These eyeglasses or goggles should be the one prescribed by the government eye and face protection regulation. This will ensure that your eyes and face stay protected from getting exposed to this chemical.
• Skin and Body Protection
When handling thiophosgene one should wear long-sleeved clothes to protect their skin or body from getting exposed to this chemical.
• Respiratory Protection
Use government approved respirator if the exposure level of thiophosgene exceeds or if you feel irritation or any other type of symptoms.
• Hygiene Measures
The work area should be regularly cleaned along with the work equipment and clothes. One should also never eat, drink or smoke when working with thiophosgene.

First Aid Measures To Follow When Handling Thiophosgene

• Eye Contact
In case your eyes are exposed to thiophosgene make sure to immediately rinse your eyes with plenty of water. Do not forget to wash under your eyelids too. Rinse your eyes for at least 15 minutes. Then ask for medical help immediately so that there is no further damage.
• Skin Contact
If thiophosgene is exposed to your skin, in this case, keep your skin exposed area in the running water for at least 15 minutes and ask for medical help immediately.
• Inhalation
If someone has inhaled thiophosgene do not restore to giving mouth to mouth method instead move the person to open air and give artificial respiration. And call for medical help immediately or take the patient to the hospital.
• Ingestion
In case of ingestion do not induce vomiting call for physician instantly or poison control center to take care of the situation in hand.

Condition to Avoid When Handling Thiophosgene
Keep thiophosgene away from excess heat and open flames, hot surfaces and sources of ignition. One should also make sure that the chemical is not exposed to air or moisture too. Keeping guidelines in mind will help you handle this chemical more effectively.

The above-mentioned safety measure and equipment will help you work effectively while handling the chemical. Many Thiophosgene manufacturers in India supply quality product to their customers. These manufacturers make sure that clients have the necessary tools to communicate and discuss their queries if and when required. So go online and you choose the manufacture that provides quality products at affordable prices right at your doorstep.
This entry was posted on November, 07, 2020 at 18 : 08 pm and is filed under Chemical. You can follow any responses to this entry through the RSS 2.0 feed. You can leave a response from your own site.